Hey there friend, if you're thinking about starting a café in Singapore, I've got some tips and advice that might just help you out.
Get Legal-licious: Registering Your Café in Singapore
First things first, you'll need to register your business with the Accounting and Corporate Regulatory Authority (ACRA)'s Bizfile Portal. This is a fairly straightforward process that you can do online, and it usually takes a few days to get everything sorted.
When it comes to registering your business with ACRA, you'll need to decide on the type of business structure you want to operate under. Some common options include a sole proprietorship, partnership, or private limited company.
It's important to research each option because they all have their own advantages and disadvantages. For instance, a sole proprietorship is easy to set up and run, but doesn't protect you from personal liability. A partnership gives you more resources and knowledge, but might lead to disagreements and conflicts with your partner. Lastly, a Pte Ltd gives you limited liability and better funding options, but comes with more paperwork and legal obligations.
Think about your goals for the business, your financial situation, and your level of risk tolerance. If you're unsure about which one to go with, you can always consult a lawyer or accountant to help you out.
Next up, let's talk about the permits and licenses you'll need to get before opening your cafe. You'll need things like a food hygiene certificate, liquor license (if you plan to serve alcohol), planning permission, and permit for outdoor seating (if you're planning to have a patio). Some Important ones and their respective authorities are:
Registration of Company/Business (ACRA)
Food Shop Licence (SFA)
Halal Certification (MUIS)
Liquor Licence (SPF)
Fire Certificates (SCDF)
Apply for Advertising Sign/ Signboard Licence (BCA)
Application for Changes (HDB Commercial Properties)
Apply for Change of Use Approval (URA)
Apply for GST Registration (IRAS)
Apply for Work passes and permits for foreign workers (MoM)
It might seem overwhelming, but trust me, with some careful planning and preparation, you can make your cafe dream a reality in Singapore.
The Food Shop Licence costs S$195.00 and is valid for one year, while ACRA Business name application and registration Fee is $15 and $100, respectively. The SSIC code for a café business is 56112, while food courts, coffee shops, and canteens (with mainly F&B income) fall under 56122, and restaurants are classified under 56111.
Location, Location, Caffeination: Picking the Perfect Spot for Your Café
Once you've got your business registered, you'll need to find a location for your café. This can be a bit tricky, as you'll want to find a spot that's easily accessible for your customers, with plenty of foot traffic. You'll also want to make sure that you're in compliance with all the necessary zoning laws and regulations.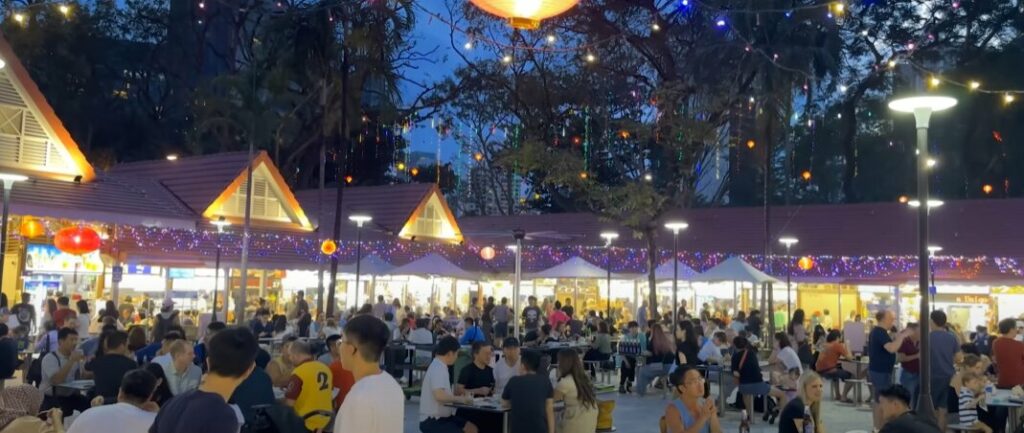 Choosing the right location is essential for the success of a café in Singapore. Some popular areas to consider are Chinatown, known for its traditional shophouses and colorful streets, Kampong Glam with its trendy cafes and street art, Tiong Bahru with its charming cafes and vintage shops, and Orchard Road, a bustling shopping district with high foot traffic.
To make the right decision, consider factors such as foot traffic, surrounding neighborhood, and overall vibe of the area. Choosing a location in a popular and vibrant area can increase your chances of attracting customers and building a loyal following, but keep in mind that rent prices in these areas can be high and must be factored into your budget.
The cost of renting a fully-equipped F&B space in Singapore varies widely, ranging from S$6.00 psf in Kampong Bahru road to S$35.00 psf in Normanton Park and S$22.00 psf in Orchard gateway.
Brew-tiful Interiors: Designing a Café That Wows
Alright, now it's time for the exciting part – designing your cafe! This is where you can really let your creativity shine and make your cafe stand out from the competition. Start by thinking about the overall vibe you want to create. Consider things like the color scheme, furniture, and layout. You'll also want to think about where you'll source your ingredients from to ensure you offer top-notch food and drinks to your customers. Get ready to create a space that reflects your unique vision and style!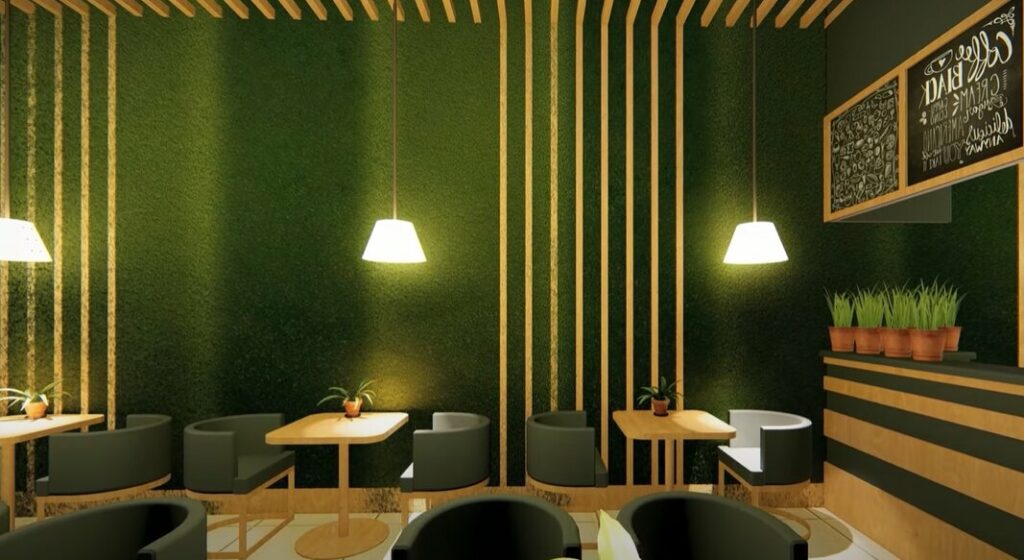 Firstly, creating a cozy and welcoming atmosphere is key. This means paying attention to details like lighting, furniture, and decor to make your cafe feel inviting and comfortable. You want your customers to feel right at home!
Secondly, sustainability is becoming more and more important to customers. By incorporating eco-friendly practices like energy-efficient lighting and appliances, reducing water usage, and using recycled materials, you can show your customers that you care about the environment and attract like-minded folks.
Thirdly, technology is becoming a big part of cafe design. Offering free Wi-Fi, wireless charging stations, and online ordering systems can make things more convenient and efficient for your customers. Interactive displays and digital art installations can also make your cafe stand out and create a more immersive experience.
Finally, personalization and customization are key trends. By offering customizable menu options and personalized recommendations based on customer preferences, you can create a unique and tailored experience for each customer.
By keeping these trends in mind, you can design a cafe that meets the evolving needs and expectations of your customers. Good luck!
In Singapore, the typical price range for restaurant pantry benches and dining chairs is about $250, while dining tables start from $900. For pantry bar counter stools and tables, the cost is usually between $150-$250 and $400-$1000, respectively.
A Sip of Perfection: Crafting Your Café's Irresistible Menu
Of course, the most important thing when it comes to a cafe is the menu. You want to make sure your food and drinks are not only tasty, but also unique and exciting. So, think about what kind of atmosphere you want to create, and what kind of food and drinks you want to serve. Do you want to focus on coffee or tea? Healthy options or indulgent treats? The possibilities are endless!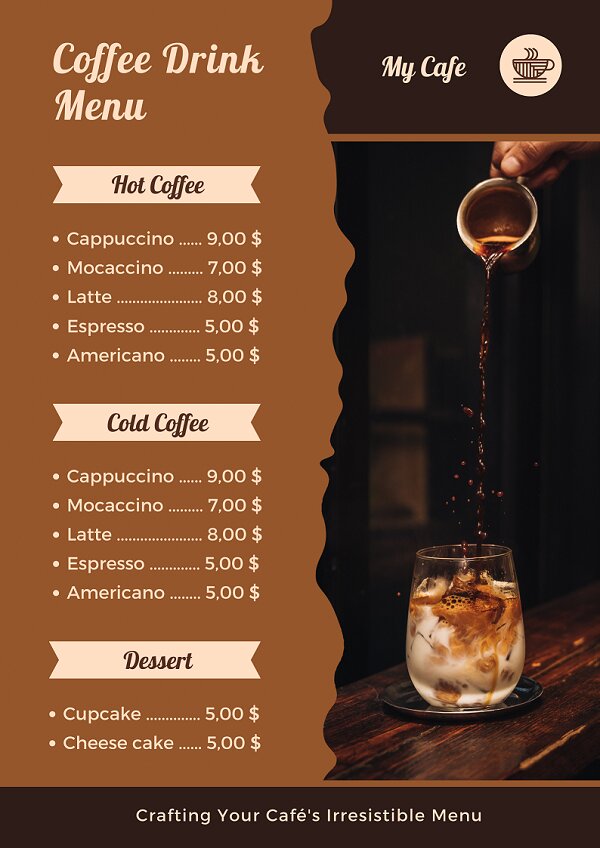 To make your cafe stand out, it's a good idea to incorporate worldwide trends into your menu. For example, offering plant-based options like vegan or vegetarian dishes can attract health-conscious and environmentally conscious customers. You can also create dishes that are Instagram-worthy, like colorful smoothie bowls or intricate latte art. This can help generate buzz and attract younger customers.
Another trend to consider is incorporating global flavors into your menu. You can try Middle Eastern, Korean, or Latin American cuisine to add variety and appeal to customers who enjoy trying new and exotic flavors. It's also a good idea to offer items that cater to specific dietary needs, such as gluten-free or dairy-free options, to attract a wider range of customers.
When creating your menu, it's important to balance creativity with practicality. While unique and trendy items can be attractive, it's also important to offer classic and familiar options that customers love. You should also consider the cost and availability of each item to make sure your menu is feasible.
In Singapore, a cup of coffee can be as cheap as S$1.20 in a kopitiam or neighborhood coffee shop, or as expensive as S$8-S$10 at a specialty café. At speciality coffee shops, you can typically find a double ristretto Espresso shot for $4.00, a Hand Brew Pour Over for $8.00, and 6oz Caffe Latte & 9oz Cappuccino for $5.50 on average. To put this into perspective, the menu at Starbucks Singapore averages around $7.20 to $8.40.
Perk Up Your Staff: Hiring and Training Your Café Team
Another important factor to consider when opening a cafe is staffing. You'll need to hire a team of people who are passionate about the hospitality industry, and who are committed to providing excellent service to your customers.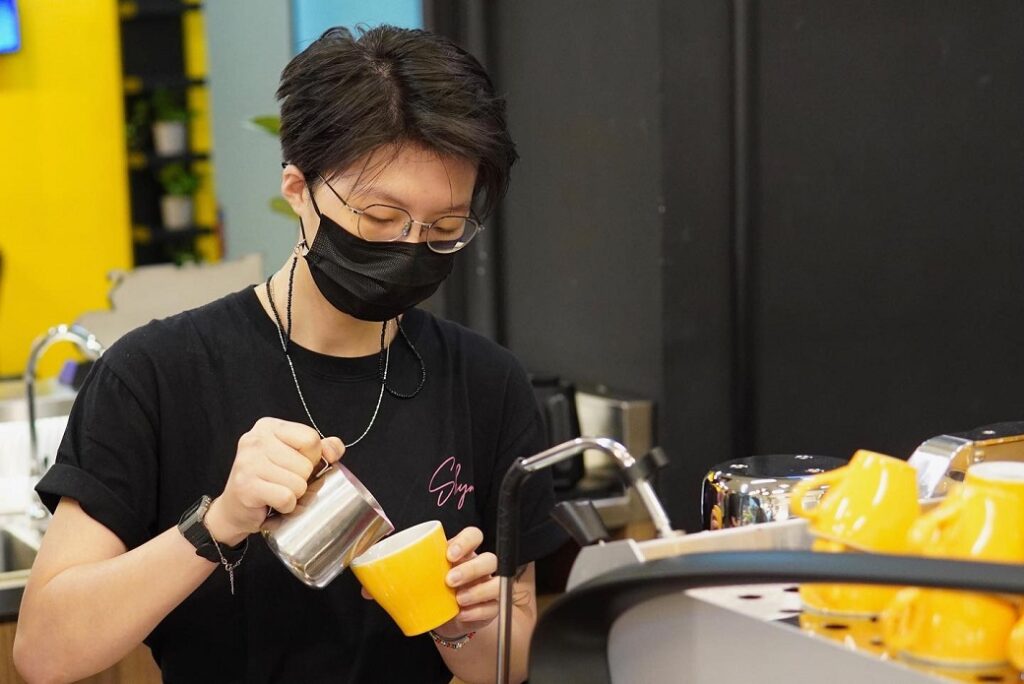 When it comes to staffing a cafe specifically, there are a few additional best practices to consider. One is to hire staff who are passionate about coffee and have experience in specialty coffee preparation. This can help ensure that your cafe is known for its high-quality coffee offerings and can attract a dedicated customer base.
Another best practice is to establish clear procedures and standards for food preparation and presentation. This can include training staff on how to make your signature dishes and drinks consistently, and ensuring that they have the necessary equipment and ingredients to do so.
Additionally, it's important to have a flexible staffing plan that can adapt to changes in customer volume and demand. This can involve cross-training staff to perform multiple roles, such as taking orders and preparing drinks or food.
Finally, creating a positive and welcoming atmosphere in your cafe can be key to attracting and retaining both customers and staff. This can include designing a comfortable and inviting space, offering perks like free Wi-Fi or cozy seating, and providing a friendly and accommodating customer experience.
By following these best practices for cafe staffing, you can build a team that is knowledgeable, efficient, and dedicated to providing a high-quality coffee and food experience to your customers.
In Singapore, the typical pay range for Barista positions is between $2,200 to $2,800 per month. The national average wage for a Part-Time Barista, including those working at Starbucks, is $7.
Caffeine Boost: Marketing Your Café to the Masses
Finally, let's talk about how to get people excited about your new cafe! There are a bunch of ways you can promote it and attract new customers. One way is by creating a website and social media pages to showcase your menu and atmosphere. This can help build your online presence and allow people to share your cafe with their friends.
To really stand out, you'll want to create a clear brand identity with a unique style and messaging. You can use social media to showcase your products and engage with customers, by running contests or partnering with influencers to reach a wider audience. Loyalty programs and special deals are also great ways to incentivize repeat business and keep customers coming back.
Hosting events like live music or art shows, and teaming up with other local businesses can also generate buzz and attract new customers. By using these marketing and social media strategies, your cafe can build a loyal following and become a go-to spot in the community.
In Singapore, the number of Facebook and Instagram users stands at approximately 5 million and 2.7 million, respectively. The average cost per click (CPC) for ads on these platforms falls within the range of $0.5-$0.75. To carry out brand awareness campaigns on these platforms, the cost of engaging a digital marketing agency can range from $1300 to $2200 per month. Cafe owners who invest in such campaigns can anticipate a 4X-6X return on their ad spend (ROAS).
Coffee 101: Essential Education for Running a Successful Café
Now, I know all of this can sound a bit overwhelming, but don't worry – you don't have to do it all on your own. There are plenty of resources available to help you get started, like business coaches, consultants, and mentorship programs.
One such program is the Enterprise Summer Programme in Entrepreneurship, offered by the National University of Singapore. This program gives you the chance to work with other entrepreneurs and learn the skills you need to start and run a business, through lectures, discussions, and practical experiences like pitching and visiting organizations.
Another program to consider is the Startup SG Founder program, which provides funding of up to SG$50,000, mentorship, and resources to first-time entrepreneurs. They also offer helpful workshops and training sessions on topics like business planning and financial management. With the support of these programs, you can gain the skills and resources you need to turn your business idea into a reality.
And remember, the most important thing when it comes to starting a cafe (or any business, really) is passion, dedication, and the aim to brings joy and deliciousness to your customers every day.
So, what are you waiting for? Start planning your café today, and let your creativity shine in the Lion city!