Are you ready to take your nail game to the next level? Then read on to discover the best nail salons in Singapore for the most stylish and Instagram-worthy nail art. The nail art scene in Singapore is exploding with creativity and innovation, mixing cultural influences with worldwide trends in Matte, Glitter, Marble, Ombre and Stiletto nails.
Art on Your Fingertips: Finding the Best Nail Salons in Singapore for Masterful Nail Art.
Whether you're in the mood for classic French manicures, bold pop art nails, or intricate 3D embellishments, there are plethora of nail salons that await to satisfy your every nail art desire. So, what are you waiting for? Get ready to be wowed!
D'nails Artist
If you're on the lookout for top-notch manicure and pedicure services, look no further! I highly recommend this gem of a salon nestled in the charming Kebun Baru/Mayflower neighborhood. Known for its exceptional care, affordable rates, and cutting-edge nail trends, this spot is truly a must-visit.
Eileen and Joanne, both seasoned pedicurists, are gentle and patient when it comes to tackling any nail-related issues, from thickened to ingrown to pincer nails. They even offer special attention to those with sensitive fingertips, making sure every client feels comfortable and relaxed during their appointment. Plus, they offer a wide range of comprehensive nail packages tailored to each customer's specific needs, all within a luxurious and cozy setting.
Whether you're in the mood for a classic French manicure, minimalist and neutral polish for a formal event, or the latest marble-colored trends, D'nails salon has got you covered. You can even customize your nails with playful designs like floral patterns, anime and cartoon characters, and glittery velvet textures for a truly unique look.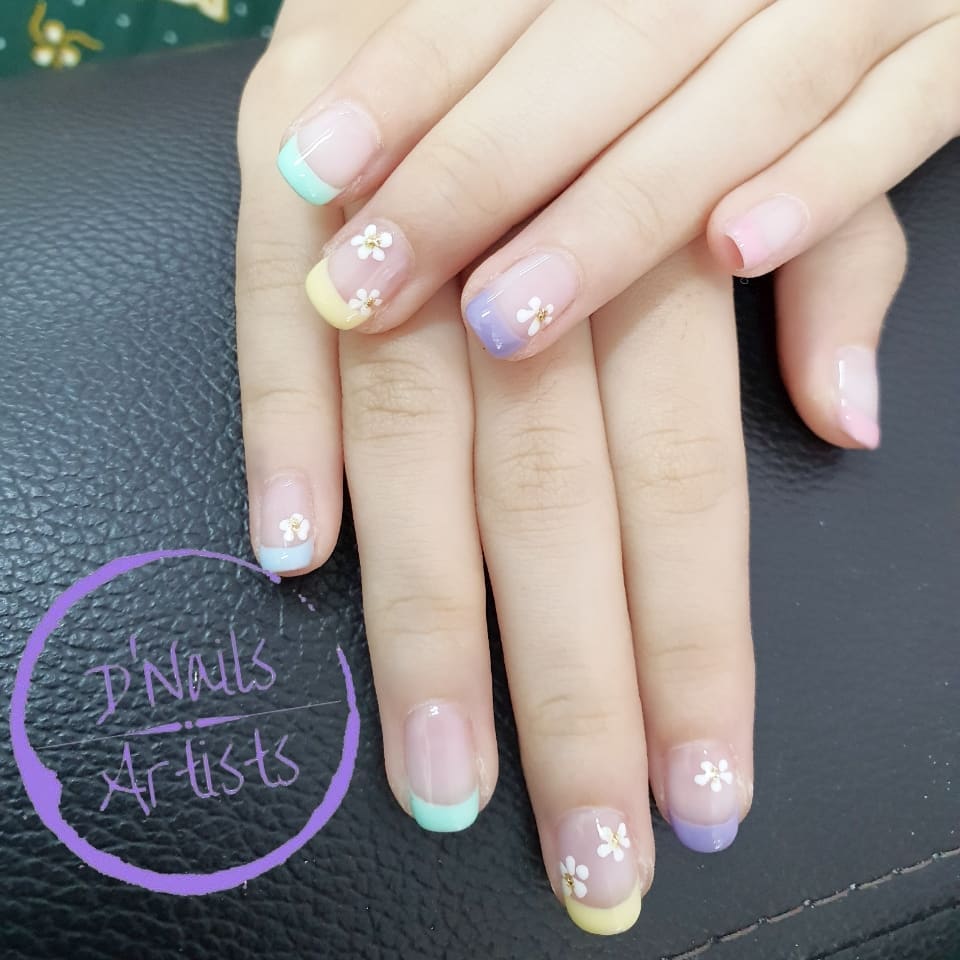 So, the next time you find yourself near AMK avenue 4, don't hesitate to drop by this delightful establishment. You'll be blown away by their meticulous attention to detail, exceptional customer service, and overall commitment to providing the best manicure and pedicure services around.
---
EileenNailsSg
Looking for a welcoming and comfortable home studio to get your nails done for a special occasion or upcoming event? Look no further than EileenNailsSg, located in the charming Bidadari neighborhood of central Singapore. Run by the delightful Eileen (a Pink Room International Nail Academy graduate), this cozy salon is just a short 5-minute walk from Woodleigh MRT and boasts a friendly and approachable atmosphere where Eileen will provide personalized recommendations tailored to your specific needs.
Despite being a home-based salon, you can trust that EileenNailsSg's manicure and pedicure setup is both professional and comfortable, ensuring that you receive the highest quality of services possible. From manicures to pedicures to extensions, EileenNailsSg is your go-to destination for impeccable results. To schedule an appointment that fits your busy schedule, customers have the option of reaching out to EileenNailsSg in two convenient ways: either by sending a quick message via WhatsApp at +65 82888480 or by direct messaging her on her official Instagram account @eileennailssg.
Once you've secured your appointment, take some time to explore the salon's impressive selection of popular nail art designs. Choose from classic French manicures, trendy Ombre nails with a gradient effect, or more abstract options like swirling patterns of marbled nail art. For those who prefer a softer look, delicate floral designs in pastel hues are a great option, while bold statement-makers will love the pop art nails. Whatever your preference, EileenNailsSg has a range of stunning nail art options to choose from.
---
Princess's Cottage: The Nails Story
Are you on the hunt for the ultimate nail pampering experience? Look no further than Princess's Cottage, a distinguished and luxurious salon located in the vibrant city of Singapore.
Since its inception in 2006 at Tampines Mart, this establishment has captivated the hearts of many, and after a decade-and-a-half of serving its patrons with excellence, it has expanded to three outlets across the city, including The Seletar Mall and TripleOne Somerset.
One of the hallmarks of this exquisite salon is their use of Pure Made-in-Japan gel nail product, known as shinygel. Their repertoire of professional-grade products includes the renowned Zeolite base gel, biomass top gel, glossy crystal top gel, non-wipe, and hard top gel. In fact, Princess's Cottage is the sole distributor of Shinygel's gel products in Singapore and South East Asia for both personal and salon use.
At Princess's Cottage, customers have the opportunity to pamper their nails with the signature IBX nail repair treatment. This nourishing and hydrating treatment restores weak and damaged nails, while also smoothing the nail plate, brightening the cuticles, and hydrating dry and cracked nails. Furthermore, customers can choose from a variety of services such as normal nail polish, shaping, and buffing, or indulge in a gel manicure session that comes with a return soak-off.
When it comes to nail enhancement, Princess's Cottage is a cut above the rest. They provide Apres gel extension, gel sculpture extension, overlay, infill, extension, and gel polish removal, giving their customers a wide range of options to choose from.
As an added bonus, Princess's Cottage has recently announced the return of their $30 fixed priced nail arts per set, available at all three of its outlets. The most popular nail art designs from the brand, which keep customers coming back for more, include playful anime designs, cute floral and animal prints, and CNY inspired nail arts.
---
The Nail Artistry
If you're searching for an experienced nail artist in the East Coast or Serangoon Gardens area, look no further than The Nail Artistry. Their professional, friendly, and serene atmosphere will leave you feeling beautiful inside and out. Offering a variety of long-lasting OPI polish manicures and pedicures ranging from $20 to $45, The Nail Artistry also provides gel manicures, gel pedicures, and soak-off gel polish removal, complete with nail shaping, buffing, and cuticle care. Services like gel extensions, infill extensions, IBX nail repair, and various spa treatments are also popular among customers.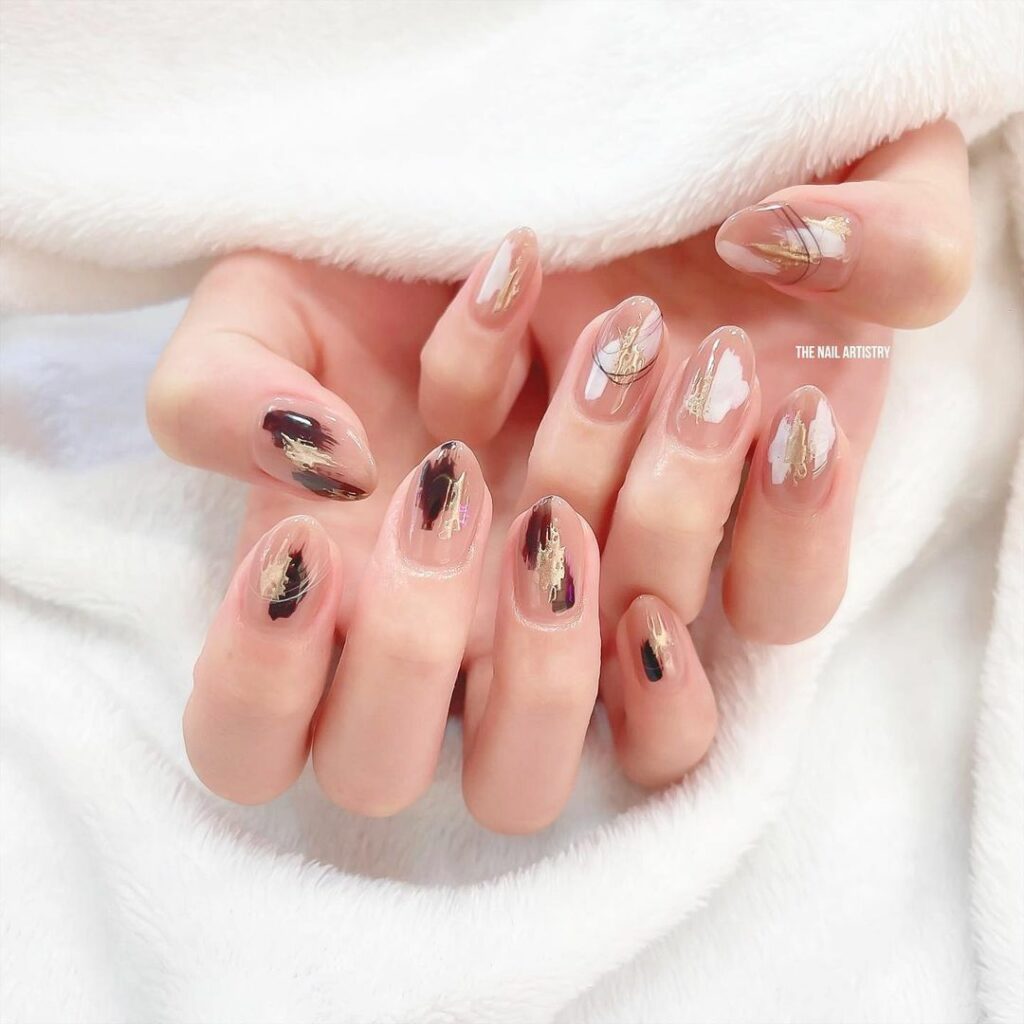 When it comes to nail art, The Nail Artistry has an impressive range of designs to choose from. Gothic nails featuring dark and moody designs and Textured nails with 3D embellishments like studs, rhinestones, or beads are just a few examples. Classic French manicures, floral patterns, gradient glitter, and Metallic nails with a shiny finish in silver, gold, or copper are also highly sought-after at this premium boutique nail salon. Whether you're looking for a subtle or bold design, The Nail Artistry has you covered with their impressive array of options.
---
The Nail Artelier
It is widely known that The Nail Artelier stands out as one of the most meticulous and creative nail art salons in central Singapore. This premium nail salon is conveniently located just a few minutes away from Bugis MRT station, making it a top choice among Singaporeans residing near Kallang, Little India, and the central area.
At The Nail Artelier, customers are given the flexibility to choose from a variety of options. They can browse through the salon's hand-picked reference samples, recreate a design from their Instagram page, or even bring a picture of the type of nail art they desire. The nail artists are well-equipped to guide customers through the selection of the best colors to match their skin tone.
The skilled nail artists at The Nail Artelier possess unparalleled expertise in creating a range of nail art designs, from Embossed 3D nail art that produces raised designs on the nail surface to intricate freehand nail art that can be customized to suit any festivities or themes. Additionally, services such as camouflage nails, alcohol-ink art, watercolor art, and budget-friendly manicure options like quality nail stickers from Japan are highly recommended by customers.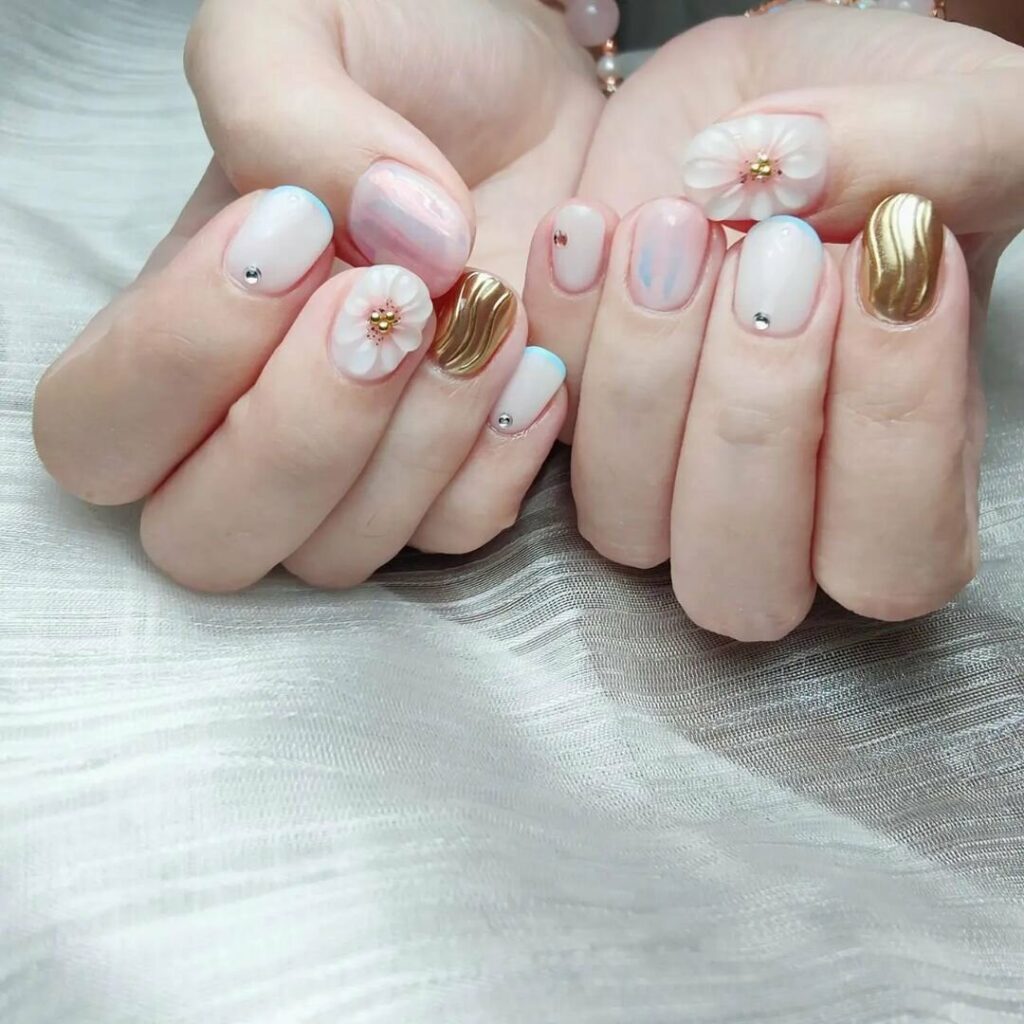 For customers looking to add a touch of glamour and sparkle to their nail art designs, The Nail Artelier offers the option of adding Swarovski crystals or cubic zirconia. The precision-cut facets and dazzling shine of Swarovski crystals exude luxury and elegance, while the more affordable cubic zirconia allows for creative and bold designs without incurring a high cost.
In short, The Nail Artelier is the ultimate destination for anyone who wants to elevate their nail game.
---
In conclusion, Singapore is home to some of the most talented nail artists in the world, and the salons on this list are a testament to that fact. So, book an appointment at one of our top picks and get ready to show off your gorgeous new nails!