Looking for the perfect outdoor venue to tie the knot in Singapore? Look no further! Whether you're envisioning a grand garden wedding or an intimate seaside ceremony, Singapore offers a plethora of stunning outdoor venues to make your dream wedding a reality.
In this blog post, we'll be sharing our top 3 picks for the best outdoor wedding solemnization venues in Singapore. From lush greenery to panoramic views, we'll take you on a journey through the most picturesque and romantic settings for your big day. So sit back, relax, and get ready to be swept away by the beauty and charm of these exquisite venues. Let's dive in!
Shangri-La Rasa Sentosa
Are you on the hunt for a unique and unforgettable seaside wedding location? Look no further than Shangri-la, the only beachfront resort in the island-state. This paradise is the perfect place to say "I do" and create enchanting memories that will last a lifetime. With elegant ballrooms and blissful by-the-sea locales, Shangri-la has everything you need to make your wedding dreams come true.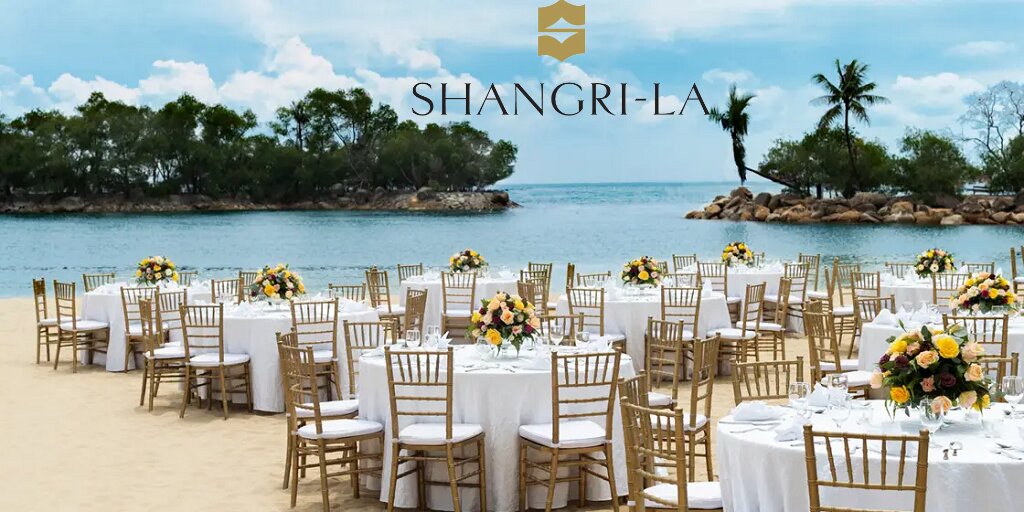 Shangri-La's Wedding Venues:
Make your wedding reception, cocktail party, or solemnization ceremony unforgettable with the Horizon Pavilion. This perfect venue is located on level five of the resort and boasts a 532 square meter open space with floor-to-ceiling windows overlooking the majestic sea and resort landscape. Plus, with the option of an unforgettable entrance from level six stairs, you can march-in via a flower-laid aisle to the center stage with up to 320 guests seated in banquet-style.
If a ballroom-style wedding is more your thing, check out Shangi-la's Siloso ballroom. The largest function space in the resort, this banquet hall spans 580 square meters and features a 24ft by 12 ft center stage, projectors and screens, and a beautifully arranged seating arrangement that can accommodate up to 360 guests.
For those who want to take advantage of the natural surroundings and unique backdrops, the Rasa lawn at Shangri-la is the perfect choice. With a romantic lawn that can seat up to 220 guests in banquet-style, you'll be treated to a topical garden and a gorgeous view of the South China Sea at sunset. The lawn also features a 16ft by 8ft center stage, a march-in aisle, and buffet lines, all surrounded by beautiful scenery.
Want to say "I do" with your toes in the sand? Shangri-la's Rasa shore outdoor wedding location, positioned along the prime position of Siloso beach, offers a banquet-style outdoor setting with a 24ft by 12ft floral arc stage and guest seating arrangement on either side of the aisle. Surrounded by palm trees, captivating beach views, and natural sea breeze, this venue is perfect for creating unforgettable memories.
Finally, why not keep the party going with a wedding after-party at Barnacles by the sea venue at Shangi-la? This 322 square meter venue is surrounded by picturesque seascape, covered walkways, and dedicated bar areas, offering the perfect setting for a memorable night of celebration. Don't wait any longer to make your dream wedding a reality at Shangri-la.
Shangri-La's Wedding Packages:
Shangri-La Rasa Sentosa is offering three amazing wedding packages in 2023 that cater to every couple's needs. Whether you choose the Elegance, Enchantment, or Exquisite package, all three come with a mouthwatering menu crafted by the skilled chefs, gorgeous floral decorations, and free use of audio-visual equipment.
Couples who opt for the Elegance or Enchantment packages will also receive a complimentary menu tasting session for up to ten people and a one-night stay in the Bridal Suite, inclusive of breakfast for two. These packages are perfect for an outdoor solemnization ceremony, too, with exclusive use of the Rasa Lawn or Rasa Shore for up to 150 guests at SGD 5,088++. Meanwhile, the Exquisite package includes an outdoor solemnization ceremony with exclusive use of the serene Barnacles by the Sea Lawn at a reasonable cost of SGD 2,288++, accommodating a maximum of 50 guests.
The Elegance package is ideal for couples seeking indoor venues, such as the Horizon Pavilion and the pillarless Siloso Ballroom, with an option of Chinese or Western set menus for a minimum guarantee of 250 guests. The package also includes free-flow soft drinks and Chinese tea or coffee, pre-function cocktails and mocktails, a complimentary bottle of house wine for every ten guaranteed guests, two complimentary 30-liter barrels of beer, and corkage waivers.
Couples looking for an outdoor wedding experience will find the Enchantment package by Shangri-La Rasa irresistible. The package features exclusive use of the Rasa Lawn and Rasa Shore, embraced by nature. You will also receive specially designed wedding invitation cards, exclusive wedding favors for all guests, a champagne pyramid, and a bottle of champagne for the toasting ceremony, and a model wedding cake for the cake-cutting ceremony. The package also includes a one-night stay in the Bridal Suite with breakfast for two, welcome amenities, a petite wedding cake, and a complimentary pre-wedding meal in the suite.
Finally, the Exquisite package provides both indoor and outdoor venues at the stunning Barnacles by the Sea. You will enjoy a delicious menu, beautiful floral decorations, and audio-visual equipment, and a one-night stay in a panoramic sea view room. Shangri-La Rasa offers the perfect wedding packages for a memorable and enchanting wedding celebration.
Location: 101 Siloso Road, Sentosa 098970 Singapore
Hotline Number: (65) 6371 2963
Email: [email protected]
---
Sofitel Sentosa Resort & Spa
If you're looking for a wedding venue that's sophisticated, unforgettable, and surrounded by tropical rainforest, then look no further than the Sofitel Singapore Sentosa resort & spa. With its stunning views of the South China Sea, this resort offers a range of venues to suit all kinds of wedding ceremonies and receptions.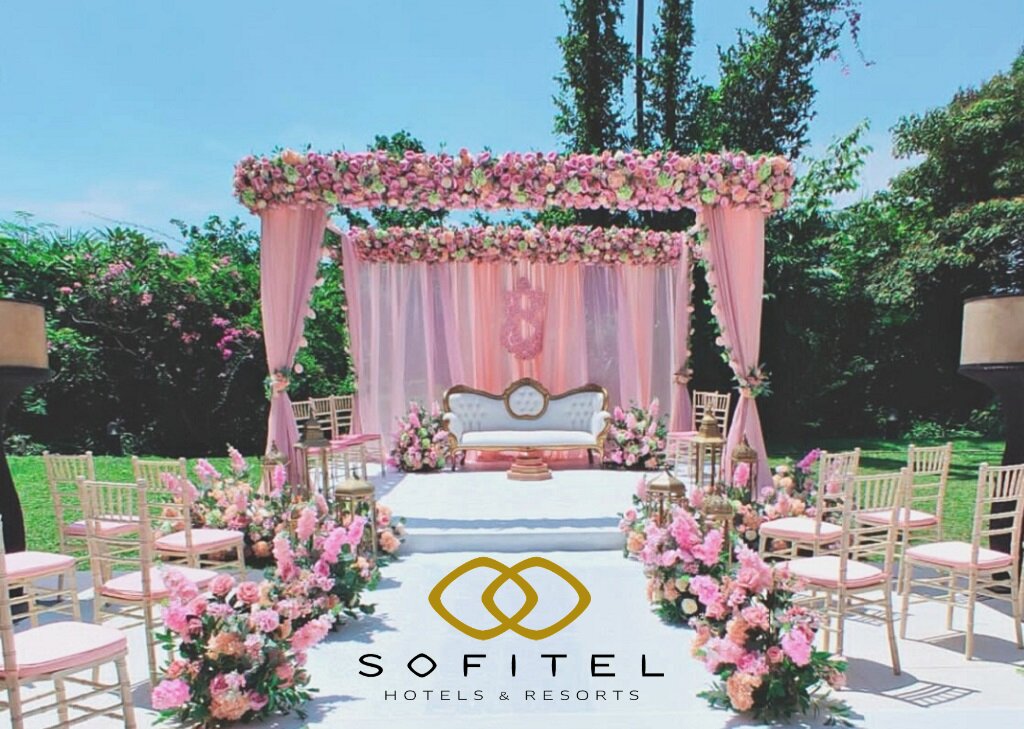 Sofitel Sentosa's Wedding Venues:
One of the most breathtaking venues is Spice Island Point, an outdoor cliff-top location that's perfect for intimate ceremonies with up to 80-100 guests in banquet and cocktail style respectively. Located on the lower ground floor, this venue offers unparalleled views of Tanjong Beach and the sea beyond.
For a picture-perfect nuptial setting, the Saffron garden is an excellent choice. With its immaculate lawn and unrivaled lush outdoors overlooking the sea, this venue is best suited for the main wedding ceremony and up to 120 person cocktail event. Located on the ground floor next to the Saffron foyer and 205 square meter Saffron Ballroom, this venue will surely leave a lasting impression on your guests.
Another outdoor clifftop location at Sofitel Sentosa is the Straits Verandah, which provides breathtaking views of the South China Sea amidst the lush greenery. Adjacent to a 328 square meter Straits Ballroom, this venue is perfect for an intimate banquet or cocktail event with up to 70 & 150 guests, respectively.
If you're looking for a more intimate setting, the resort also offers other perfect outdoor venues such as the cliff sunset deck adjacent to Alfresco bar and dining area, the Garden patio – a secluded nook located away from the main resort, and any of the four 300 sqm Villa du Jardin's, which are veiled by rich foliage and perfect for private solemnisations for up to 20 persons.
Sofitel Sentosa's Wedding Packages:
Sofitel Sentosa resorts offer stunning wedding venues that cater to different preferences and group sizes. Whether you're planning a solemnisation event with up to 50 guests at Spice Island Point, Straits Verandah, or Saffron Garden, or an intimate gathering of up to 30 guests at the Sunset Deck at The Cliff, you'll be pleased to know that prices start from SG$3,888++.
Sofitel Sentosa's solemnization package is the perfect way to make your wedding day extra special. The package includes exclusive use of the venue, and a variety of wedding themes to choose from, including floral arch décor and centrepieces for the signing ceremony table, as well as floral décor and sashes for the bride and groom chairs. You'll also get chair posies and sashes for the aisle chairs, Tiffany chairs set up, and a VIP parking lot for the wedding couple.
Couples can also choose the popular Malay Lunch and Dinner wedding package, also known as the Istimewa Nikah Package, which includes exclusive Nikah decorations that include mini dais. Starting from just $3,888++, this package offers the choice of either the Saffron or Straits Ballroom, with a minimum capacity of 100-140 and 200-240 guests respectively.
Enjoy an exquisite dining experience with a sumptuous Halal Set Menu and unlimited soft drinks, Nespresso coffee, TWG Tea, Bandung rose, and Lime cordial served throughout the reception. As an added bonus, couples can also choose between a 4-Course Menu set at SG$ 248++ per person or a 5-Course Menu set at SG$ 278++ per person.
Location: 2 Bukit Manis Road, Sentosa, Singapore 099891
Hotline Number: (65) 6708 8310
Email: [email protected]
---
AMARA SINGAPORE
Amara's Wedding Venues:
For couples looking to have their dream wedding, Amara Singapore offers three luxurious venues to choose from. The first is the outdoor Poolside Pavilion, perfect for an intimate and romantic solemnization ceremony with dreamy stage settings and seasonal floral arrangements for centerpieces.
Next, there are four elegant function rooms available for cocktail receptions or intimate concept events. These rooms vary in seating capacity and configuration, giving the couple the ability to choose the perfect theme and style to suit their taste.
Last but not least, the Grand Ballroom at Amara Hotel provides the ideal setting for a truly elegant and romantic wedding reception. This pillarless venue boasts a spacious 37.7 m X 28.9 m reception area with 3.3 m height and a stunning centre stage measuring 24ft X 12ft, perfect for the couple. The ceiling of the Grand Ballroom is lined with fiber optic lights that resemble a constellation of stars, adding an extra touch of magic to the occasion.
All of the themes for the Grand Ballroom at Amara are carefully curated by the hotel's wedding planners. For 2022, they created three elegant themes: Rustic, showcasing the beauty of autumn and symbolizing everlasting commitment; Gatsby, a classic affair with a modern twist; and Twilight, embodying the ethereal feel of the twilight hour.
Amara's Wedding Packages:
The cost of a table of ten for a weekday lunch or dinner banquet at Amara is approximately SGD 1088, while a solemnization package for Chinese lunch and dinner is around SGD 780 and SGD 980 respectively.
On the weekends, from Friday to Sunday, a table of ten for the banquet lunch starts at SGD 1240, while the banquet dinner price begins at SGD 1370. For a Chinese solemnization package during the weekend, a table of ten will cost approximately SGD 880 for lunch and SGD 1088 for dinner.
Amara Singapore's banquet packages come complete with additional luxuries such as a gourmet 8-course Chinese feast prepared by their talented in-house chefs, unlimited servings of soft drinks and Chinese tea throughout the banquet, a stunning wedding cake display for the cake cutting ceremony, a champagne fountain display and a bottle of champagne for toasting, beautifully designed wedding invitation cards, a dedicated VIP parking spot for the bridal car, access to state-of-the-art AV equipment, and special rates for additional guest rooms.
Amara's Wedding Reception Menu:
The reception menu offered during weekdays features a delectable Chinese spread, including Amara's deluxe platter as the main dinner dish, as well as a variety of seafood options such as seabass and stir-fried king prawns and scallops. The menu also features delicious options in vegetables, noodles or rice, soup, and dessert. On weekends, guests can enjoy additional options of fish, like Barramundi and Red Garoupa, and meat, like Grilled Kurobuta Pork and the Signature Roasted Duck.
Location: 165 Tanjong Pagar Road, Singapore 088539
Hotline Number: +65 6879 2681
WhatsApp Number: +65 9850 9426
Email: [email protected]s.com
---
There you have it, our top 3 picks for the best outdoor wedding solemnization venues in Singapore. Each of these venues offers a unique and memorable experience, guaranteed to make your special day one to remember. Whether you choose the lush greenery of the Sofitel resort or the stunning panoramic views of Shangri-La Rasa, we're sure that your wedding day will be unforgettable. So start planning and let these breathtaking outdoor wedding venues in Singapore be the backdrop to your happily ever after.